Hydrate
Please remember to drink lots of water before, during, and after your class. Dehydration can impair muscle and cognitive function so stay hydrated. You may purchase a re-usable water bottle from us or bring your own to fill at our hydration station. ***Please no glass in the studio***
Fuel Up
Be sure to consume a balanced meal a few hours before class, then a snack about 30 minutes before class to ensure you have enough energy to fuel your workout.
What to Wear
It's gonna get hot! Dress appropriately and wear shorts or form fitting pants and a breathable top. Bring a towel or rent, buy, or receive one complimentary with your membership.
Cancellations/No Shows
BPM has a strict 12-hour cancellation policy. If you are unable to cancel within the cancellation window or no show your account will be charged as if you had taken the class. If you have an unlimited membership, an $18 late cancellation fee will be charged to your account, if you have a punch-pass you will lose the punch.
Arrive Early
Arrive at least 15 minutes before class. Cutoff is 5 minutes prior to class. If you do not arrive before the cutoff you will not be permitted in class.
Check In
Introduce yourself, ask questions, and get pumped for class! If doing spin, book a bike, grab your cycling shoes, and heart rate monitor. You will receive a complimentary towel to keep if you have a membership, or you can rent or buy one.
Waiver
Sign online when you create your profile, print and bring, or sign on site. Always be sure to read carefully and ask questions if you do not understand.
Terms and Conditions
BPM Indoor Cycling Inc.'s BPM Terms and Conditions 2019 must be agreed to before your class. Please read these and let us know if you have any questions.
Lockers
Secure your belongings in one of our complimentary lockers. All items are to be removed at the end of class.
Shoes
BPM Indoor Cycling is happy to provide all riders with SPD cycling shoes to provide an optimal ride. Riders can also purchase shoes, bring their own, or wear regular indoor shoes.
Heart Rate Monitor
All attendees are provided with a  heart rate monitor to help you customize your experience. Prior to class, each sensor will be programmed to your individual settings. During class, you'll be able to track your heart rate, training zones, and caloric expenditure to optimize your workout.
Towels
BPM is proud to provide every member or punch-pass holder with your very own towel to keep! Otherwise, these can be rented or purchased on-site for a nominal eco-fee.
Shower
BPM has one shower for member use at each location. If you forget your towel we carry large ones for rent.
Seat Height & Position
Stand beside your bike, close to and beside the saddle. Position the seat so that the top of the saddle is level with your iliac crest (hip), then re-tighten after adjustment. Sit on the saddle and clip your shoes in or place feet in the peddle cage. Begin to pedal very slowly. There should be a 5-15 degree bend in the knee as it extends down into the six o'clock position.
Handlebar Height & Position
The handlebars should be adjusted after performing the seat height adjustment. Handlebars should be level or higher than the top of the saddle. The elbows should be slightly bent and shoulders at approximately 90˚. New cyclists are encouraged to keep their handlebars in a high comfortable position to take any strain off of their back. Further adjustments will depend on personal preference and experience.
Seat Fore & Aft Position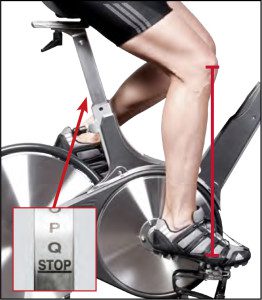 Sitting on the saddle with your feet on the pedals in the three-o'clock and nine-o'clock position (crank arms perpendicular to the floor). When looking down, the front of your knee cap (patella) should be in line with the middle of the pedal at the point where the crank arm meets the pedal. The elbows should be slightly bent and shoulders at approximately 90˚. If when looking down, you can't see your toes, the seat should be shifted back. Similarly, if you can see your entire foot, the seat should be shifted forward. Adjust and re-check the knee cap alignment. In addition, observe while pedalling that your knees do not extend beyond your elbows.
Posture & Body Position
Keep your back in a neutral position (fig. B). Proper posture means engaging your abdominal muscles and diaphragm muscle. In a neutral spine position, there is a slight arch in the low back (fig. A). When you are seated on the cycle, hinge at the hips and maintain your neutral position (fig. C). This position is referred to as "hip hinge". To avoid possible injury, maintain good positioning and control of both the upper and lower body within this basic posture illustrated below.